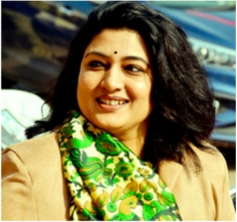 Dr. Meghna Sharma
(Director)
History:


Importance of museum lays in the points that
Museums collect and preserve our objects and materials of religious, cultural and historical value, they are a good source of entertainment, these museums help to preserve and promote our cultural heritage, Museums are a storehouse of old artefacts, sculptures, objects, history etc. Museums help in research and study, They are the main attraction for tourist, they are a good source of knowledge.
The Centre for Museum and Documentation evolved in 2019
Vision:
The Centre for Museum and Documentation (CMD) is a public institution founded in 2019 as the documentation, information and communication node.
Through its basic activity – documentation, information, advisory, museological, archaeological, research, educational, publication, library and exhibition activities – it participates in the development of the Indian and international museum community.
CMD promotes:
· the preservation of knowledge about the history of museums and galleries in
Rajasthan
· the gathering and dissemination of data and information about museums
· the promotion of museum activities and the achievements of museums in the
community at large
· the promotion and development of the museum profession
· the founding of new museums
· the elaboration and proposal of museum laws and regulations
· the dissemination of information concerning museums through the publication of professional journals and publications
· the promotion of professional standards and the development of the museumprofession through the creation of programmes of professional training and permanent education.
· free access to information and holdings
· computerisation and the implementation of new technologies
· the cooperation of Indian museums with national and international heritage institutions.
Collection:
The CMD is founded with a modest collection, and its present holding includes archaeological materials, literary and archival materials while paintings, textiles and costumes, decorative art, personalia collections etc. are under process of acquisition. Most of its collections are historically important, aesthetically beautiful and enjoy certain amount of uniqueness. Though the museum's target visitors are university students, alumni, research scholars and teachers, it aims to serves as a Regional Museum and caters to the need of a huge number of lay visitors.
Present Status:
CMD is an upcoming State of Artcentre in India, if not in Asia. It aims to grow at par with museums across India. The centre is fully dedicated to the cause of higher education and multidisciplinary researches. The academic possibilities of this centre being immense, it aims to acquire the status of a university museum of national importance.
Information:
Centre for Museum and Documentation
drmeghnasharma@mgsubikaner.ac.in
Address
Maharaja Ganga Singh University
Jaisalmer Road, N.H. 15, Bikaner-334003, INDIA
Telephone No 09983654990
Email: drmeghnasharma@mgsubikaner.ac.in, drmeghnasharma79@gmail.com
Timings
Charges/Fees See Notice Board
Galleries:
We are under the process of making and redesigning galleries related to the Life and Achievements of Maharaja Ganga Singh Ji of Bikaner besides an attempt will be made to depict the History of Bikaner, pictoghraphically or through collection of material related to the same.
Activities:
As per the definition, the CMD extends all possible facilities to the students,
research scholars, alumnus and teachers in their higher education and research and provides source materials contained herein.
· Ancient Indian History, Culture and Archaeology
· History of Art
· Tourism and Travel Management
· Museology
· Faculty of Visual Arts
· Faculty of Performing Arts
· Faculty of Indian Medicine
· Department of languages
Holdings:
Its present holding includes archaeological materials, literary and archival
materials.
Exhibition:
The CMD plans to hold exhibitions and academic activities in current session.
Publications:
The CMD does not have anything to show here.
Appeal:
Proposal for Expansion and A Call for Generous Donation
· That the increasing collection shall need space to accommodate scientifically and it is not present available.
· That the centre needs a suitable place for library.
· That the centre needs a well arranged conservation laboratory for the regular conservation and preservation of antiquities.
· That the centre does not have a well organized dark-room for processing photographs. That the centre needs a well equipped auditorium for organizing lectures, seminars, workshop, slide and film shows. At present these activities are being carried out in other places in university which is not technically fit for such purposes
· That the centre does not have required space for offices of administrative staff.
· That the centre does not have regular classrooms to conduct classes in Museology.
Extension of Centre for Museum and Documentation
Looking into these space problems and the inconveniences experienced every day, the centre has taken a resolution to extend and expand its building so that on the one hand upkeep of collection may be carried out without any difficulty and at the same time, maximum possible help and cooperation may be extended to students, scholars and teachers for the cause of higher education and research.

Hence this appeal is put forward to all lovers of art in general and the alumni of MGSU in particular to come forward and extend financial help for this noble cause of maintaining this great institution of cultural heritage.
DONATIONS
SHOULD BE IN THE FORM OF CHEQUE/DEMAND DRAFT IN THE NAME OF REGISTRAR, MAHARAJA GANGA SINGH UNIVERSITY, BIKANER for CMD fund.

The names of the donors shall be suitably acknowledged. All contribution to MGSU are exempted from Income Tax.